As 'Engines by Gary Brown' was winding down, a young man by the name of Jeff D'Agostino whom worked there was just getting going.  Jeff began working there when he was 15 years old honing blocks in the back of the shop.  He learned under Ed Ciccone who ran the shop.  While not very well known today Engines by Gary Brown built many championship engines and was known across the country.  As the shop was slated to close,  Jeff purchased the equipment from Brown and went into business for himself; Fast Times Motorworks was born.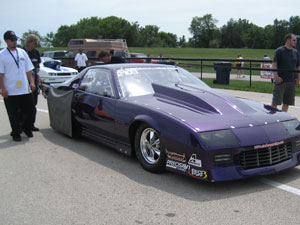 Team FastTimes
After being in business for a few years, one of the guys from a competitor shop got to know Jeff and jumped ship to come work at Fast Times.  This duo worked side-by-side becoming one of the greatest pairs of engine builders in the country.  This guy was Chuck Samuel.  Jeff and Chuck built some of the nastiest street engines around, and the local dragstrips were full of cars with Fast Times stickers on them.
As the years progressed, and after many championships and records, Chuck stepped down from Fast Times to further his racing career.  Jeff continued on with the shop and after many more years of engine building, his desire for the business was winding down.
The owner of the building located at 8605 North Lincoln Avenue in Morton Grove agreed to a 100 year lease with a developer, and thus, the building was slated for demolition.  In the beginning of 2009, the building once home to two iconic Chicagoland engine shops was now gone forever.  As the economy was in freefall, Jeff could not see the light at the end of the tunnel and decided to close Fast Times Motorworks.  The equipment was moved out of the shop and the lights were turned off for the last time at 8605 North Lincoln avenue.  To many, it was saddening to see such a well-known business close the doors, but many do.  It was a shock to the engine building and racing community.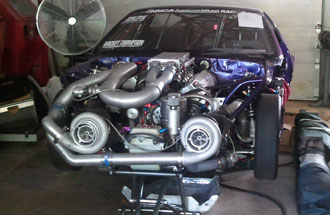 Twin Turbo Camaro
Fast forward to October 2012, with the economy still in shambles, a former employee of Fast Times, Graham Jones, was looking for a job with nothing to be found.  An engine shop and racing background was not a pair of work references employers were looking for.  After countless job searches, hundreds of resumes, and the lack of jobs available, Jones decided to make a move.
Jones spoke with many friends he had in the industry to get a feeling of what the market was like and what they would think of his idea.  Many were taken aback at the prospect of what could be, offering help and assistance, and mostly support to the thoughts he had.  After much thought, much more hard work, and a desire to succeed, Jones decided to pull the trigger.
April 21, 2013, Fast Times Motorworks, Inc. was officially back in business.  While keeping it relatively quiet in order to get everything in order, Jones began spreading the word to friends and family; the responses were positive.  Work began to trickle in and another era had begun.  As no business is easy, nor is trying to follow the footsteps of the likes of Ed Ciccone and Jeff D'Agostino.  Fast Times Motorworks is once again reborn.