"I didn't have to compromise on my vision of having a 2000 plus horsepower daily driven car- that gets 14 mile to the gallon. Graham was more than accommodating and he applied his wheelhouse to achieve race car performance in a true street car." --Ken Ivaska
FT598 Twin Turbo
Ken is a long-time customer of the shop and was beginning his 67 Cutlass 442 project. He approached us about doing the engine for it explaining to us that he wanted it over-the-top.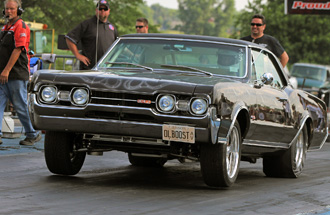 Ken's 'OlBoost'
When a customer gives you the opportunity to have virtually free reign on a build-up that will be the best of everything, you jump at the chance. Being that the car was big and going to be heavy, we elected to go with an all-aluminum 598 with a pair of twin 88mm turbos.
Too much? Absolutely. Just the way he wanted it.
Check out October 2013's Issue of RPM Magazine that has a feature article on Ken's 'OlBoost'. You will need your browser's PDF plug-in to view this article. Article courtesy RPM Magazine www.rpm-mag.com (Used with permission. Reproduction in any manner is prohibited under copyright.)
"I had some mechanical issues and headed over to Revolution Race Works here in Las Vegas. After discussing my options we decided to dump the stock LS1 and get into a fully built 403 Stroker! Frank told me about FastTimes Motorworks and said they would be the ones for the job. Frank didn't let me down. Nothing short of a great experience!"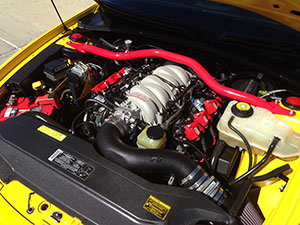 403 Stroker
"Although I was in Vegas and had never met, Graham reached out to me for an introduction and informed me about the build. Any correspondence I sent was quickly answered. As soon as my motor was in and we turned the key nothing but smiles! Cars sounds amazing and feels even better. The motor is a beast and he did an amazing job on my heads. Needless to say it won't be the last time our car club uses FastTimes Motorworks. We currently have two amazing motors with him and can't wait to get them on some asphalt!"
'Thanks for the outstanding work and dedication!" -- Carlos Vazquez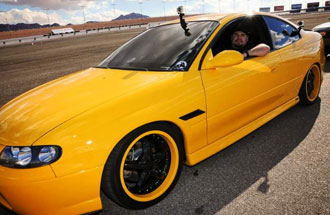 Carlos in his GTO
Carlos was a job sent to us through Revolution Raceworks in Las Vegas.  Carlos had some serious problems with his GTO engine and brought the car to Frank to have checked out.  After a few consultative phone calls, Carlos pulled the trigger on a forged 403 LS2.  He didn't have it in the budget for new cylinder heads, so we ported his existing castings to complement the new short block.  This combination will lend itself nicely to the ProCharger he has planned for the near future!  Watch out Las Vegas…
"Fast Times Motorworks built an iron block 364 LS series engine for my turbo project back in 2008. The block was thoroughly deburred, main caps squared and align bored, and the bores were deck plate honed. They also assembled the heads as well."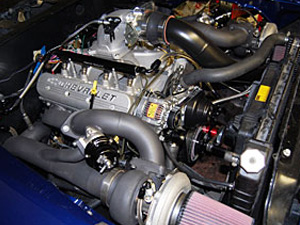 Jim's Iron block 364 LS
"I've been running the car on the street for a few years, and finally made it out to the track this year. My best pass to date is a 9.8 @ 144.67 in a 3,600 lb street car on a cold slick track. I've had no problems with the engine whatsoever! It doesn't burn or leak a drop of oil, and is holding up well to 20psi of boost."

"Their attention to detail and overall build quality is fantastic!" -- Jim Norman
Jim was not unfamiliar with our shop as he is our GM parts guy.  He decided it was time to bring his '81 Camaro into the present and upgrade it. Boy did he ever!  We built a stock stroke LS, upgraded to h-beam rods and forged pistons.  His combination, along with a pair of turbos, was definitely enough to wake up the Camaro and make it fun to drive again.  It will soon be another to add to the list of 8-second street cars out of FastTimes.