Spiro had also decided that he wanted to step up and race with the ADRL, as this was the cream-of-the-crop for doorslammer racing. After making one event to try it out in the 2008 season he had decided to build a car. While the hunt was on for an ADRL car, I spent four weeks at Skinny Kid Race Cars redoing a lot of the work on the new Camaro. In the original form it was un-raceable. Even though we had a spare engine, it would take all day to swap them. There was no between rounds fixes. My time at Skinny's was spent changing things so that I could do my job. There's nothing like trying to work on a car that has so much stuff jammed into a tiny space that is poorly thought out.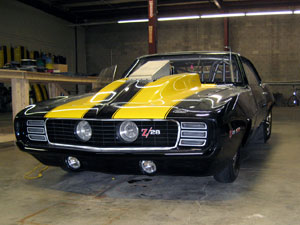 Twin Turbo 69 Camaro
The 2009 season had a whole different start. A new car was purchased and being built by Jerry Bickel Race Cars to compete in the ADRL Extreme 10.5 class. In March, we headed to the first NMCA race with the newly-updated new car as the primary and the old car for backup. We qualified #1 resetting both ends of the record which prompted a tech inspection due to the complaints of others. As I knew the car was legal, we had no problem with tech. We went to the final round, and that's where our good weekend ended. The car spun the tires on the gear change and Spiro ended up hitting the wall, HARD. After bouncing off of both walls and a massive explosion, the car skidded to a stop just after the scoreboards. He was ok, but the car was a disaster.
The goals had changed after that race. Our NMCA season was over and everything was in limbo after the Bradenton race. I had no idea if we would race again that year, if ever. During the 'down time', I cleaned the car up the best I could and hauled it down to JBRC to get a damage report. At the same time, I had to take the reins on the new car build and instruct the guys how to do things the way that I wanted, being that I was the one who had to work on it. After a week at JBRC I headed home.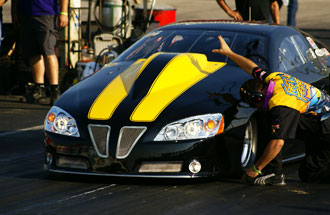 GXP Staging
With a few weeks to gather his thoughts, Spiro was full speed ahead on the new car. By the beginning of April the new car was completed, some testing was done, and it showed great promise. After testing we headed to Georgia for our first race of the year and did well, with a runner-up finish. The remainder of the year was a massive blur for me.
I had finally completed the new engine and gotten the car back from Bickel with the new headers, exhaust and intake plumbing. I was excited for the new engine because it was something that had my name on it and hoping it would make a statement against the other cars. Shortly after coming back and making sure everything was in good working order we loaded up and headed to our local track for the NMCA race to do some testing with the new engine. This is where the fun stopped.
The brand new GXP caught fire during testing at the Joliet NMCA race, ruining the entire front end, wiring, plumbing and a host of other things. What I thought was going to be a nice easy weekend of testing turned out to be nothing of the sort. We had no idea where the fire originated but there were speculations, many of which I did not like hearing. The main thing was that Spiro was ok. I was sick to my stomach, going over in my head everything that had been done to the car, the engine; everything. Nothing stood out that would cause a fire.
The next few days were spent at Bickel's shop mounting a new, temporary, front end, windshield, repairing all of the plumbing and wiring, and whatever else needed to be addressed. After many days, and I really cannot remember how many, that Friday night I loaded the rig with my teammate Ed, and headed to Virginia for the ADRL race. We drove straight through, stopping only for fuel. Getting into the mountains provided another problem for me: no trailer brakes. We stopped a few times to try to fix them, but after a few miles of adjusting them they would not work, so we just kept going. We made it safely to the track, sometime around 1am. I was beyond exhausted. As soon as we got there and parked Spiro wanted to set up, get the car out and test everything. This was understandable, but I was not happy.
ADRL Virginia 2009
The next day was beautiful and we headed up for qualifying with the patched up GXP. First round we saw smoke from the starting line as the car went past the finish line and I was immediately on the radio. The car caught fire again. I could not believe it. The sick feeling was back and I was really starting to question myself.
Back to Bickel's straight from the track. It seemed like we never left. Everything was getting fixed, again. For the next two weeks I basically lived at his shop. Thankfully, the next race was 15 miles from Bickel's shop. This whole operation was wearing thin on me. I was growing increasingly frustrated and wondered what I was doing with my life. Regardless, I had a job to do. The car got completed in time and we headed to the track.
After setting up, this time during the daylight, we got the car out and did some testing. Every race we did a spool-up test to determine how the air would affect different aspects of the tune up on the car. During this spool-up test Ed noticed something. After shutting the car off to determine what he saw, we finally figured out what it was and what the cause of the fires was; fuel. The fuel rails were bending in the middle allowing fuel from the inner injectors to spray on the headers and ignite. Off came the manifold and out came the welder. I did some quick fabrication work to give extra support to the middle of the fuel rail and the problem was fixed.
The next day was no stellar performance for us. We qualified 7th and made it down the track free of fire and that's all that mattered. It was a short trip home and some much needed rest was awaiting me.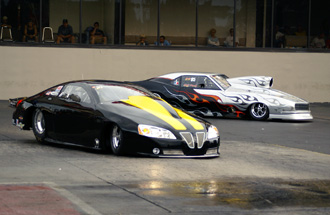 Pontiac GXP
Two weeks later we headed to Ohio with some good feeling about the car since it was still intact. Friday we finished up the day qualifying 5th, a good spot to be in heading into eliminations. We felt good about the race. The track was excellent, the weather was just about perfect, and we had a solid car. Don (Bailey) kept upping the ante just a little every run, and the car was taking it. In the semi-finals we faced Chuck Ulsch, whom had the quickest and fastest car in the class. He was the first and only member of the Mickey Thompson 3-Second club, which was set up for Extreme 10.5 racers as a challenge to break into the 3-second zone.
As they staged, I watched in my usual manner, stone-faced, behind the car. When you see a car make enough runs, you can tell when its different. The GXP was getting little in a hurry. I could tell it was on a mission, and it was; 3.998 @ 190.11. We were now the second car in the 3's and headed to the final against Spiro's biggest rival, Billy Glidden.
I knew what to expect from Billy. I also knew what to expect from Spiro, just not today. He was on his game, Billy was not. Billy red-lit handing us our first ADRL win. I wish Billy had not red-lit, via 'switch malfunction' or otherwise, but at this point in the year I will take any win I can get. It was a great weekend for us and finally something to be happy about.
More testing ensued, followed by the Rockingham race. Rockingham was tough as the new engine had to be put in, unfinished, after the first round of eliminations. We hurt a piston and had to hustle. We got the engine in, started, and to the burnout box. As Spiro started to do the burnout he stopped and said there was no throttle. After working like animals to get everything ready between rounds, someone left the pin out of the throttle linkage. I know who it was, and they told me they would not forget. I was pretty disappointed to say the least.
Pappas v. Glidden
Regardless of the poor outing in Rockingham, we were #8 for the championship race, meaning we had a chance to win the title. Just to get into the special race ladder, we had to race #7. No easy task at this level. The final race of the year was back in Texas. We did well in qualifying, yielding the #2 spot behind Ulsch. Before our last qualifier Spiro started the car in the pits to make sure everything was good. He heard a loud tapping and mentioned it to me. It sounded like a loose rocker so we preceded to go. It sounded fine in the burnout so we were good. As I was knelt down pulling him into the beams I could hear the tapping and it didn't sound so good. Regardless, we made the run and it lived. How? I have no idea. The lash cap broke, broke the tip of the valve off and was partly riding on the retainer. Somehow someone was looking out for us. The head came off that night and I got everything fixed up for the championship race.
We continued our good runs beating everyone we needed to in order to make it to the final round of the championship race. We had to face Chuck Ulsch once again. Spiro is notorious for bad lights and, as Bailey puts it "shifts somewhere between idle and 10,000", so going into a situation like this you never know, but when he's on, he's on. This weekend he was on. As the tree came down, they both left and the GXP took a car length lead. Don did his job with the tune up and the car and we ran 3.958 @ 192.55 to beat Ulsch's 3.988 @ 201.46. We had done it. We had just accomplished both goals Spiro had set out at the beginning of the year after announcing we would be racing the ADRL: become a 3-second club member and unseat Billy Glidden. It was surreal winning a championship in front of a legitimate audience of 40,000 people and overcoming the nightmare of a season we had endured thus far
As the day was not over, we continued to the final round to again face Ulsch. Who knows what Spiro was doing, but his .115 light to Ulsch's .021 gave him the win, even though we had the quicker car. Nonetheless, it was a great start to the next season.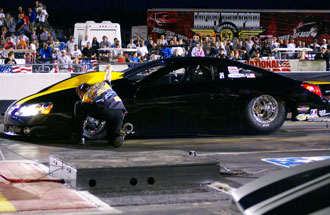 ADRL 2009 Finals
The 2010 year of racing started off well with a trip to Houston for testing. After making the 24-hour drive we made one test pass with a 3.93 and loaded up. Spiro decided that was good enough so he left and then we followed, only to come back two weeks later. It seemed rather pointless, but I wasn't the boss. We went back to Houston to race, qualify #1 with a 3.883, and then proceed to get rained out.
The next race showed signs of the economic collapse with only eight cars showing up for our class. The previous year had car counts that were double and sometimes triple. Even still, we qualified #2 but lost first round on a holeshot to the 7th qualified car. It wasn't a shocker to me to lose like that but it still was not fun. Surprisingly, we sat out the next race. Spiro had too much going on with his business to be able to go.
The next two races we would qualify well, but end up losing due to poor reaction times. And they weren't poor, they were inexcusable. As a crew chief you do your job with the expectation that everyone else does theirs. Problems like this can't be fixed by a crew chief or anyone else. Something was amiss and I did not realize it until much later.
We went back to Houston to make up the race from previously in the year. One thing I learned about Texas is that you do not want to be there in July. It was disgusting. After qualifying #1 earlier in the year, we had a little luck on our side with a broken bye-run first round and competition bye second round. Third round we had Billy Glidden. Billy could have the slowest car on the property but you can never count him out. The reaction time gremlin was still there, this time the wrong way. A red-light start gave Billy the win and more frustrations for me and the team.
The frustrations would continue with a #1 qualifying position in St. Louis and a second round loss to Brad Brand. The most infuriating part of my job is inflicting a problem on me that cannot be fixed. Engines, transmissions, chassis', and any other part can be fixed.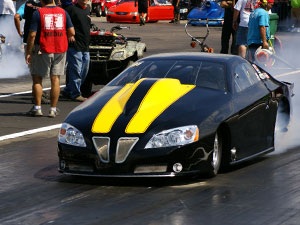 Pappas burnout
The next race we would qualify #4 and catch a few breaks to put us in the final round against Brad Brand again. Watching the progression of reaction times this race, Don and I had no clue what would happen in the finals. We predicted it, another .154 light to a .030, but Brand had problems yielding us a lackluster win. With a sour taste in our mouth we took the win and headed home to prepare for the finals.
The wild reaction time ride would continue in Norwalk with a good light to begin with and a #3 qualifying spot only to lose in the semi-finals on another holeshot to Chuck Ulsch. We were lucky enough to have a fast car to get us that far. At this point, no one was happy and it was truly becoming a sore subject.
Spiro decided we would go to the 'Shakedown at E-town' race to test for the finals, which I thought was a bad idea. We made one decent run that yielded no real results and then headed back up for a second shot. After the burnout I heard something and shut him down. We ended up breaking a piston sending us home, frustrations mounting.
After getting back, my analysis of the engine was that the pistons were no longer suitable for the application. I told Spiro that running the pistons we had left was a gamble. He was willing to take it. With two fresh engines and a 26-hour ride back to Texas we were again in the 'Battle of the Belts'. We had Chuck Ulsch first round, and considering the year we'd had, I knew what was coming. It's hard not to be able to believe in your driver, but once again we lost on a tree-job, .110 to Ulsch's .008. Someone was there to win and it wasn't us.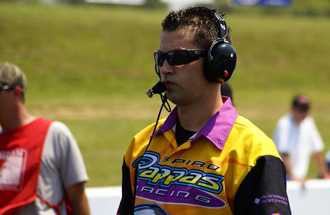 Graham Jones – Crew Cheif
After the Texas race everything was unloaded and continued as normal as if we had another race to go to. That December, Spiro told me he was done racing. The 3-year blur was over. Considering the season we had, I was kind of glad.
Racing is hard. Racing at that level is even harder. I look back at what transpired over the three years I was a crew chief and it makes me proud. When you're put into a position like I was, you learn a lot. Not only do you learn about racing and engines, but you learn a lot about yourself, people, and life. I met a ton of great people, quite a few that I am still friends with. A life in a shop building something only quantifies so much. You never know what works and what doesn't if you're trapped inside. When you can apply what you've learned, both good and bad, to what you do in the future makes you that much better. The knowledge gained from an experience like this cannot be taught. It trains your mind to think differently, and that's exactly what I do and will continue to do in the future.
The opportunity that was presented to me then is no different than the opportunity I have now. I have a huge challenge ahead of me and I am up to the task, except this time I am in the driver's seat.