Four years into working for FastTimes an opportunity came up for me to do something very different and gain a lot of experience. While I was not unhappy working at FTM, a challenge stood in front of me and quite a few people encouraged and pushed me to take the position. February of 2008 I accepted the offer and I was now crew chief and team manager of Spiro Pappas Racing.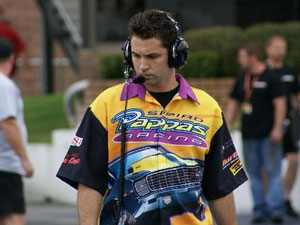 Graham
After ten years of being away from racing, Spiro started again in 2006. The '06 and '07 racing seasons were, by no means, great years for Spiro. Mechanical failures, crashes, and numerous other problems plagued his comeback. I came in with the intention of doing everything to the best of my abilities and anything that I was unsure of I had Jeff (D'Agostino) just a phone call away.
Working on a semi-professional team and being in charge comes with a lot of heartache, headache, long hours, frustrations, and the list goes on. But with all of that, seemingly negative, time spent working towards a championship, you learn a lot about yourself and what you're made of. Going into the 2008 season I was unsure what to expect as a whole, but was confident in the job I was doing.
Spiro Pappas S/S Camaro
The first NMCA race of the year was in Bradenton, FL, a 25-hour ride from the race shop. We qualified #1 and won the race, which was a great start to the year. We qualified #1 the next two races and then lost in the finals to Spiro's greatest rival, Billy Glidden, on a holeshot and then in the second round, respectively. The high from the first race had worn off and it was nothing but hard work and battling at the races.
In the middle of all of this, we were at the track testing, entering other races, and back at the shop fixing broken parts. We entered the 1320X shootout in Milan, MI and did well. We qualified #1 and went on to beat Dan Millen, one of the toughest racers out there.
The last two races of the NMCA season were on the positive side as well, winning both races and locking up the S/S championship. Being the last race of the NMCA series did not mean the end of the season for us. We loaded up and headed to Las Vegas for the PSCA Street Car Super Nationals. We headed there with two cars, yes, two. The second car was a duplicate of the original 69 Camaro we were racing, but with a much more powerful engine. We ended up qualifying #1 with the new car, but that's where it ended for us as we lost first round on a holeshot (again) making the 36-hour drive seemingly pointless. At this point, the season was over. We loaded up and headed home taking our time to get there. It was a relief for me, after being to 16 races and countless test sessions it seemed like this season would never end.
Read more